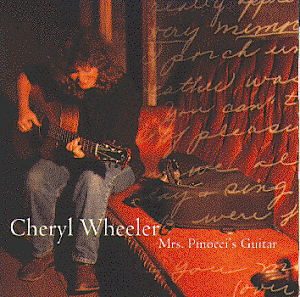 The liner notes includes some comments from Cheryl about some of the songs. The CD booklet has a lot of pictures, including a note from Mrs. Pinocci thanking her for a nice evening. If you aren't familiar with the story behind the title song, check it out.
Unlike many of her previous albums, there is a wide range of backup musicians. Here are the names that seem to keep cropping up:
Al Peteway
Kenny White
Jonathan Edwards
John Jennings
Jon Carroll
Robbie Magruder
Jonatha Brooke (the Story) provides harmony on "The Rivers"
Produced

by Jonathan Edwards and Cheryl Wheeler

Recorded and Mixed

by Bob Dawson, Bias Recording Studio, Springfield VA

Mastered by

Airshow, Inc. by David Glasser

Art Direction

Virginia Team

Album Cover Concept

P. Davis

Design

Chris Ferarra