This page describes a fascinating project by some list members who created a book with Cheryl's Lyrics interpreted by various calligraphy artists, and a forward by Cheryl.

(photo by Aimee Michaels)
Click to purchase this book.
Two Cheryl Wheeler fans combine their love of Cheryl's lyrics with their love of calligraphy in a book worthy of any coffee table. Sixty artists have visually interpreted the lyrics of seventy-three Cheryl Wheeler songs.
Nice Rendition, published by MarshMichaels, was released on July 24, 2010 in conjunction with an exhibit of the original artwork at Odyssey 2010, the 30th International Gathering of Lettering Artists held near Boston. The first 2000 books are numbered copies.
Cheryl was enthusiastic about this project from its inception in the summer of 2008. She gave permission for the use of her lyrics and let MarshMichaels find these talented calligraphic artists and select the songs for the book. She agreed to write a forward that includes an original poem that pays homage to the alphabet.
While some of the calligraphic artists were new to Cheryl's music, other contributors were avid fans. The lyrics in this book represent the range of Cheryl's songwriting. Included are funny, sad, political, touching, and reflective songs that span the decades she has been a singer-songwriter. All the songs from Cheryl's newest release, Pointing at the Sun, are included as a tribute to her ever evolving lyrical talent. Some of the songs have not yet been recorded and one, Lovely Ride, was written just months before the book went to print.
While there is nothing like hearing Cheryl's music, this book highlights Cheryl as poet. Here are some pictures from Cheryl's book signing and the exhibit at the Odyssey Calligraphy Conference at Stonehill College in Easton, MA in July of 2010.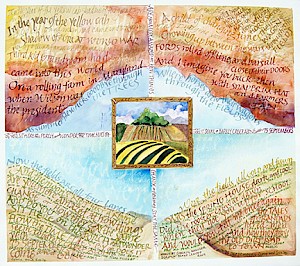 Page for 75 Septembers (photo by Aimee Michaels)
Cheryl Signing a Book (photo by Aimee Michaels)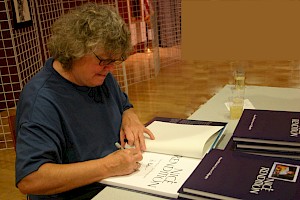 Cheryl Signing Books (photo by Aimee Michaels)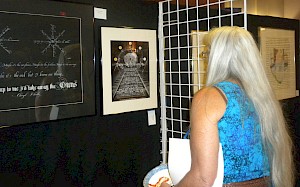 Looking at the exibit (photo by C.C. Sadler)
Nice Rendition: Cheryl Wheeler's Lyrics in Calligraphy is available for sale at nicerendition.com and at most of Cheryl's New England shows. Some of the original art pieces will continue to be exhibited around the US.
The Narrows Center for the Arts in Fall River MA (ncfta.org) has 23 of the art pieces on exhibit in the Narrows Café Gallery from Sept 8, 2010 to October 24, 2010.
In November of 2010 some of the artwork will be exhibited at the Eldersburg Branch of the Carroll County Public Library in MD. In 2011 most of the pieces will be exhibited as part of the Washington Calligraphers 35th Anniversary. To find out about future exhibits and events check http://squareup.com/store/marshmichaels
See news article about an exhibit from April 14 - June 5, 2011