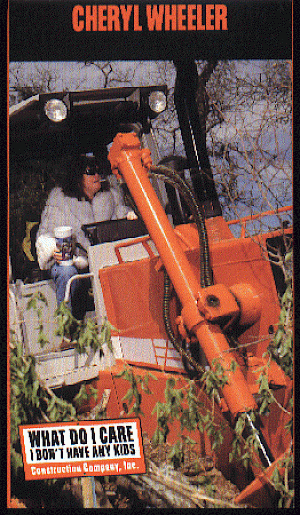 This video is a great way to introduce your friends to Cheryl. It is a live show that was recorded at the Iron Horse. I think it was recorded over two nights, but I'm not sure about that. There isn't as much banter as you would find normally at one of Cheryl's shows, but there is certainly enough there to help people understand why people love her shows so much.
The show was recorded a while ago, so if they like the video and then go see her live, they will see a different show.
For the continuity buffs in the audience:
The next time you watch this video, keep track of the level of the drink in Cheryl's glass. Also, can you find the place where Cheryl puts her glasses on, but the next shot has her with them off?
| | |
| --- | --- |
| Artist | Wheeler, Cheryl |
| Title | What Do I Care I Don't Have Any Kids Construction Company, Inc. |
| Date | 1998 |
| Label | Rounder |
| Cat # | VI 002 |