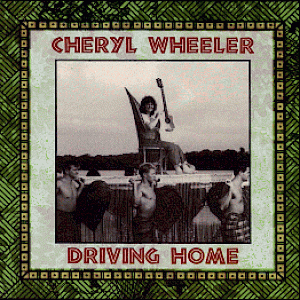 This was Cheryl's first album on Philo/Rounder. This album was heavily promoted by Philo, a welcome change from the lack of support that Capitol had given Circles & Arrows. There were (at least) three singles released from this album: "Almost" for Adult Comtemporary Radio, "Silver Lining" for Country Radio, and "75 Septembers" for general radio.
This album was taken into space. Here is a quote from Cheryl:
The coolest thing that has happened in terms of amazing career moments was receiving in the mail a copy of my" Driving Home" CD, signed by Jay Buckey, a space shuttle astronaut, with an official NASA "Certificate Of Authenticity" stating that that CD was flown aboard the United States Space Shuttle Columbia, April 17 to May 3 1998. The CD and certificate are framed and hanging above my guitars.
Mike Auldridge

Dobro

Jon Carroll

accordian

Bob Dawson

tapered horn

Allison Krauss

vocal

Jonathan Edwards

vocal, percussion, harmonica, tapered horn

Jon Jennings

guitar

Carl Lacey

percussion

Patty Larkin

slide guitar, vocal

Wade Matthews

bass

Dave Palamar

drums, percussion

Al Petteway

acoustic guitar, guitar

Vince Santoro

drums

Lynn Shule

vocal

Debi Smith

dulcimer

Robert Spates

fiddle

Kenny White

piano, organ, electric piano, keyboards

Produced by

Jonathan Edwards
"When Fall Comes to New England" by Kyle Lehning & Jonathan Edwards

Recorded and mixed

by Bob Dawson at Bias Recording Studio, Alexandria, VA

Additional overdubs

Morningstar Recording Studio, Hendersonville, TN

Engineered by

Bruce Irvine

Additional Engineering

by Chuck Thompson

Mastered by

Dave Glasser, Airshow Inc., Alexandria VA
| | |
| --- | --- |
| Artist | Wheeler, Cheryl |
| Title | Driving Home |
| Date | 1993 |
| Label | Philo~Rounder |
| Cat # | PH 1152 |