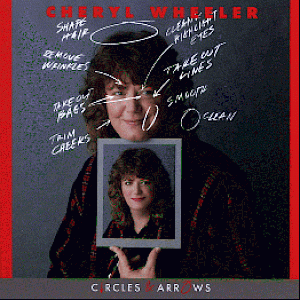 This album was originally issued by Capitol and then dropped almost immediatly due to internal politics. Rounder re-released this album, which was great news to people who had tried to find the album! Recorded in Nashville, this album is much more produced, and has a definite country influence. It also has a number of country personalities contributing to the album.
The Rounder release revised the liner notes and art work. The liner notes were probably re-typed, the font was changed, and the layout different. Also, the credits are somewhat different. For example, Rounder doesn't credit Tony Gottlieb (Cheryl's manager) for hand claps on Estate Sale.
The cover photos are different on the two releases. On both covers, Cheryl is holding a small picture of herself. The larger picture has all kinds of marking: "Shape Hair", "Remove Wrinkles", etc (directions to the touch up artist.) On the Capitol album, the small picture looks identical to the larger picture. On the Philo album, the small picture is touched up and "glamorized". At one point, Cheryl was talking about having the smaller picture have her wearing a tiara and a fancy gown, but that idea was dropped. The Capitol album has a picture of Cheryl on the back of the album and the booklet that doesn't appear on the Philo version.
Unfortunately, they still have her old booking agent instead of Fleming and Associates.
Dennis Burnside

Acoustic piano

Larry Byrom

Acoustic, electric, and slide guitar

Mark Casstevens

Acoustic guitar

Ashley Cleveland

Vocals (Soon As I Find My Voice)

John Condon

Vocals

Bill Cuoma

Organ, synthesizer

Jerry Douglas

Dobro

Jonathan Edwards

Vocals

Vince Gill

Vocals (Aces)

Tony Gottlieb

Hand claps (Estate Sale)

Doyle Grisham

Steel guitar

Mike Haynes

Trumpet & Fluegelhorn (Soon As I Find My Voice)

Jim Horn

Barritone Sax (Soon As I Find My Voice)

Sheri Huffman

Vocals (Don't Wanna)

David Hungate

Bass, electric guitar

Wendy Johnson

Vocals

Kyle Lehning

Vocals

Paul Leim

Drums

Robbie Macgruder

Drums (Arrow)

Terry McMillan

Percussion

Jonelle Mosser

Vocals (Soon As I Find My Voice)

Mark O'Connor

Mandolin, fiddle

Jim Photoglo

Vocals (Northern Girl, Miss You More Than I'm Mad)

Charles Rose

Trombone (Soon As I Find My Voice)

Lisa Silver

Vocals (Don't Wanna)

Denis Solee

Tenor Saxophone (Soon As I Find My Voice)

Joe Stanley

Electric guitar

Harry Stinson

Vocals

Pam Tillis

Vocals (Soon As I Find My Voice)

Billy Joe Walker, Jr.

Acoustic and electric guitar

Produced by

Kyle Lehning
except "Arrow" produced by Jonathan Edwards, with additional ideas by Kyle Lehning.

Recorded at

Nightingale Studio, Nashville
"Arrow" recorded at Bias Recording Co., Springfield, VA by Bill McElroy.
Engineered by Joseph Brogan, assisted by Gary Paczosa, Kirt Odle, and John Condon
Overdubs recorded at Morningstar Sound Studio, Hendersonville, TN engineered by Kyle Lehning and Tom Knox, assisted by John Condon.
Strings and horns recorded at Digital Sound Recorders, Nahsville, TN.

Engineered by

Tom Knox, assisted by John Kunz.

Mixed at

Morningstar Sound Studio by Kyle Lehning, assisted by John Kunz.

Mastered at

The Mastering Lab, Los Angeles, by Doug Sax and Alan Yoshida.

The A Strings are

Conni Ellisor, Violin
Ted Madsen, Violin
Laura Molyneaux, Violin
David Davidson, Violin
Carl Gorodetzky, Violin
Pamela Sixfin, Violin
George Binkley, Violin
Jim Grosjean, Viola
Kristin Wilkinson, Viola
Gary Vanosdale, Viola
Anthony LaMarchina, Cello
Robert Mason, Cello
| | |
| --- | --- |
| Artist | Wheeler, Cheryl |
| Title | Circles & Arrows |
| Date | 1991 |
| Label | Capitol |
| Cat # | CDP 7 92063 |
| | |
| --- | --- |
| Artist | Wheeler, Cheryl |
| Title | Circles & Arrows |
| Date | 1991,1995 |
| Label | Rounder |
| Cat # | 11671 1162 |