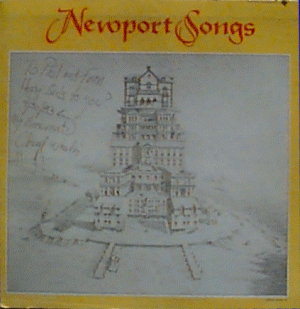 This EP was Cheryl's first recording. I find it amazing that it is so good. The version of Summerfly on this album is just as good as the version on "Half a Book", recorded 8 years later.
A man named Franz Kneissl owned a company called "Newport Is Sports". He asked Cheryl to write a song for his store. He then financed this EP so that his song could be recorded. It is out of print, and isn't (wasn't) available on CD. This EP had the distinction of being an inch larger than any of the other albums.
Notice that Kenny White produced the EP, and provides keyboards and harmonies. Kenny and Cheryl met at Salt Theater, in Newport, RI in 1976. He was playing piano for Jonathan Edwards, and Cheryl was opening.
The cover is a blending of several Newport mansions. I asked Cheryl about the picture of her on the back. She thinks she had just put on her gig shirt, and was in the process of buttoning it.
vocals, acoustic guitar

Jean DoSifantus

drums

John Voit

bass

John Bois

bass (Headed for a Heartache)

Bobby Keyes

electric and acoustic guitar

Kenny White

keyboards and harmonies

Marc Parmet

percussion

Jim Biggins

clairinet

Joan Fink

background vocals

John Manchester

string arranger

Billy Novick

horn arranger and sax

Recorded at

Normandy Sound, Warren R.I. spring of 1983.

Summer Fly recorded at

Part I of II, N. Dartmouth, MA.

Produced by

Kenny White
| | |
| --- | --- |
| Artist | Wheeler, Cheryl |
| Title | Newport Songs |
| Date | 1983 |
| Label | |
| Cat # | |